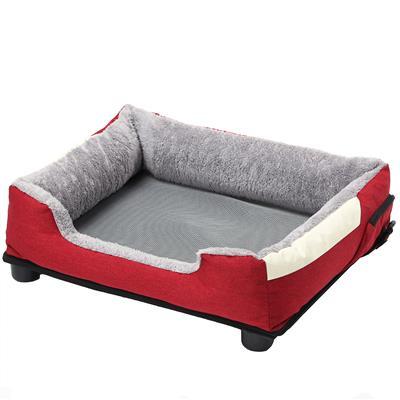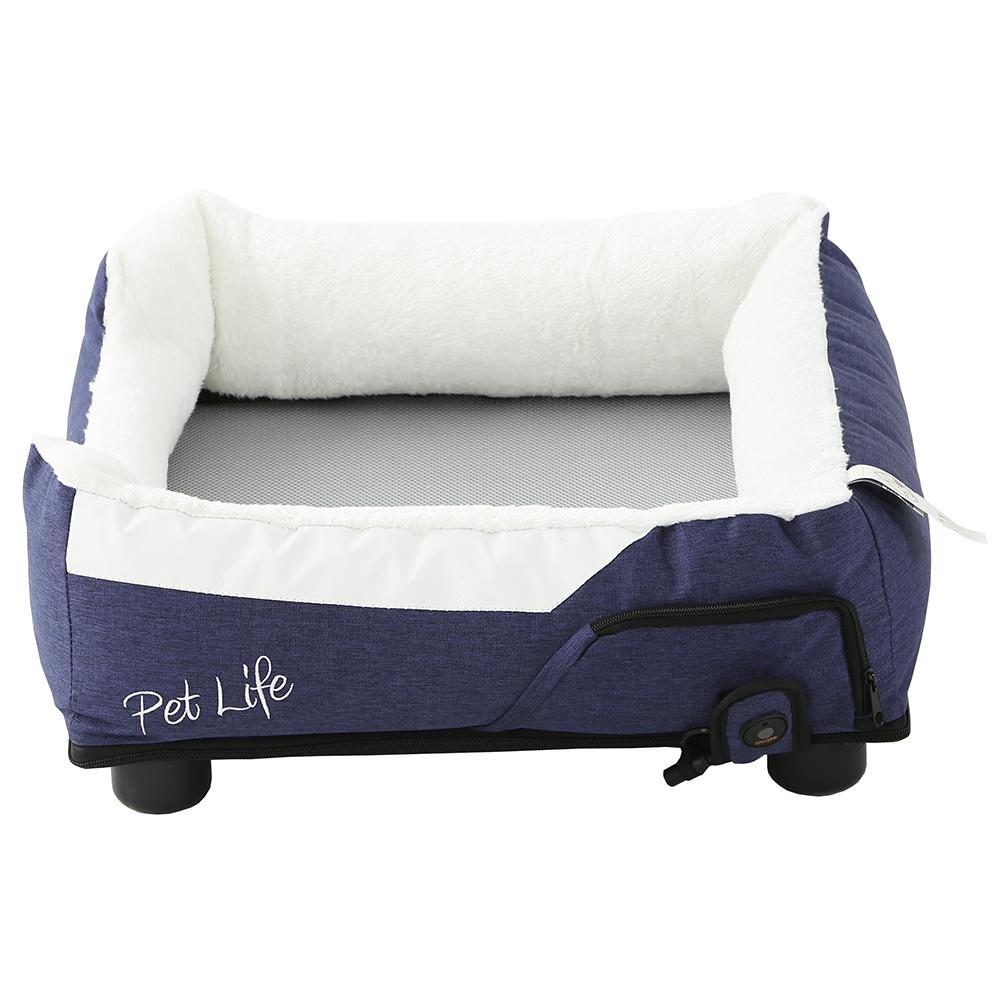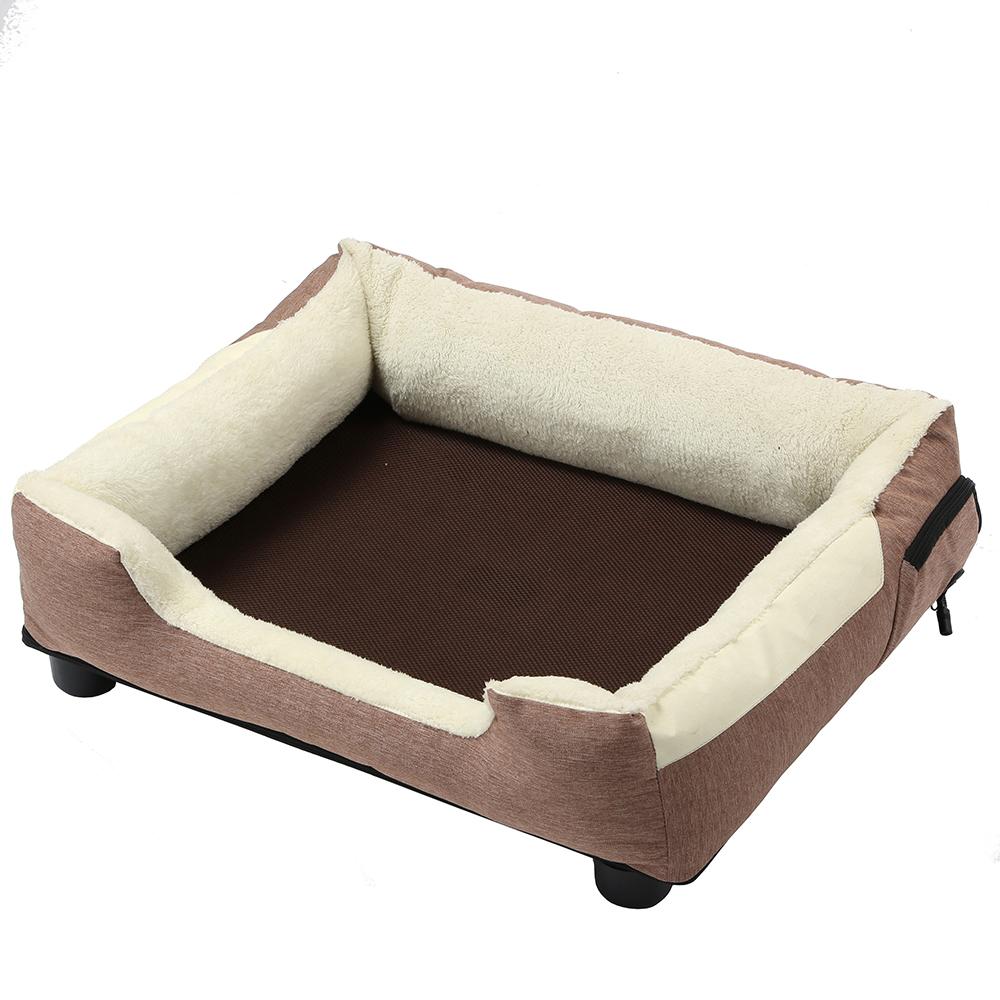 Dream Smart Pet Bed
Regular price
Sale price
$ 79.00
/
Dream Smart Pet Bed is an innovative heating, cooling bed that activates at the press of a button.
When 'Cooling Mode' is activated the button turns BLUE and a silently powered fan located beneath the bed begins to apply cooling ventilation through the mesh cushion. 
When set to 'Heating Mode' the button turns RED and the built-in heating nodes are activated and lightly penetrate through the ventilated mesh fabric and gently warms the cushion.
Features:
Smart Thermal Control Technology a safety features that automatically turns off when Bed reaches a certain Warming Temperature.
AC powered (built-in concealed zippered compartment for storage of AC unit.
Exceptional comfort and highly constructed,
Exterior-shell - blended Polyester-Nylon fabric that is inner-rimmed with an indulging faux-fur fabric. 

Ultra-Silent Powered Fan concealed beneath the Bed that provides Cooling Ventilation through the Comfortable Mesh Surface

Electrical Heating Nodes underneath the Bed that gently Warms the surface

Certifications: ISO, UL, CE, RoHS
Sizes: 
Medium: 18"l x 10.3"w x 14.5"h
Large:     18"l x 10.3"w x 14.5"h
Additional Details:
Recommended Use: Heating Mode: Do not leave the device on for more than 48 Hours. Cooling Mode: Do not leave the device on for longer than 4 Hours at a time. It is recommended to turn off the device for at least 10 minutes between usage intervals.
Ordering / Shipping / Returns
 Shipping Costs*
Orders ship for $6.99 with the following exceptions:
Overweight shipping costs will be reflected at checkout.
Orders over $299 Ship Free (exclusions apply).
Where can you ship?
We ship to locations in the Continental United States. Excluding Alaska.
How long will it take for my order to arrive?
Orders take 2-4 business days to process
Shipping typically takes 4-10 business days dependent on destination.
Additional Shipping Details:
Some products, like Made to order or personalized items, may require extended ship times. This will be noted in the product description details.
We will email you if your item is temporarily unavailable or delayed. Don't forget to check your Junk or Spam folder for rerouted emails.  Backordered items can be cancelled without penalty if the item has not shipped. 
Express Shipping:
We do not offer express shipping at this time
Tracking your Order
If you have established an account email and password, track your order status  at Customer Login.
or, Contact Us  
If your order status says unfulfilled, that means it is in process. When your order ships, the status of your order will show fulfilled and you will receive a shipping confirmation email.  
When an order is submitted it is finalized and may not be able to be cancelled and any associated shipping costs become the buyers responsibility.
 Ordering Agreement
 By submitting orders with us, you agree to our return and exchange policies. 
We reserve the right to modify policies at any time without notice. While we make every effort to keep information accurate, we are not responsible for typographical errors.
___________________________________________________________
 Return Policy
Return Policy
Returns are accepted up to 60 days after your item is purchased. Returns may be subject to a restocking fee up to 20% of the item current price. Shipping is non-refundable.


Return Shipping
  Reach out through the contact us form and we will provide the returns address and a Return Authorization Number. Ship the item and record the Return Authorization Number on the shipping label or, on the box near the shipping label. Contact us with the return tracking number can speed your refund.
 Shipping costs are non-refundable. Damage or loss in return shipping is the responsibility of the customer. For your protection you may want to, use a traceable shipping service or purchase shipping insurance.
Refund Processing
Refunds are processed after the item is returned and confirmed in New  (resellable) condition. Contact Us with any concerns
Exchanges (if applicable)
We only replace items for defective, damaged or wrong item received.  Contact us for any return instructions.